Logo created by FSFE
It's European Waste Reduction Week. Like Alsace Réseau Neutre, claim the right to install the software of your choice on your devices.
Why we signed
The creation of such a right would be entirely consistent with our demands for living free and creating sustainable technologies. More specifically, this right is a necessary condition to "make our digital equipment work for more than 10 years". In addition, it would greatly promote "our reappropriation of technologies."
At the end of 2021, we were holding an outreach conference on ways to decrease our digital footprint. SPOILER: increasing the lifespan of devices, i.e. televisions, computers, smartphones, etc. is THE priority. So yes, if you still had doubts, it's better to keep using your old cuckoo clock that consumes a little more electricity than to be responsible for the manufacturing of a new equipment and the creation of a waste.
Proud of our observation, a destitute person called us at the end of this conference explaining that despite all his good will not to renew his phone, it simply did not work anymore because of the lack of manufacturer's update.
Moreover, during our workshops "Stop Obsolescence and Tracking", we are regularly confronted with smartphones that are impossible to reinstall or configure, as well as with application stores that forbid the installation in their full version of tools to avoid tracking like Blokada.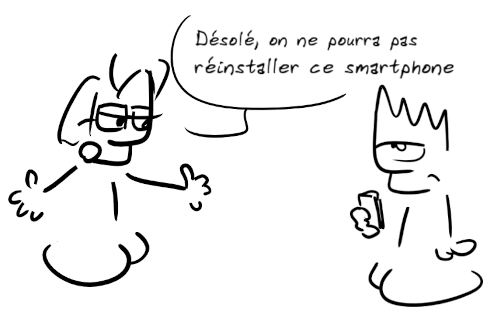 "Sorry, we won't be able to reinstall this smartphone"
Finally, if ecosystems were more open, we would be able to improve reuse by finding new uses for equipment. Smartphones with a broken screen could for example make very good small self-hosting servers, provided they can be easily reinstalled.
How do we guarantee this right?
FSFE details in its letter that to guarantee this right it is necessary that:
users have the right to freely choose the operating systems and software running on their devices
users have the right to freely choose between service providers to connect their devices with
devices are interoperable and compatible with open standards
source code of drivers, tools, and interfaces are published under a free license
It's up to you!
But, this right will not come into being if no one demands it, and that's where you can get in on the action.